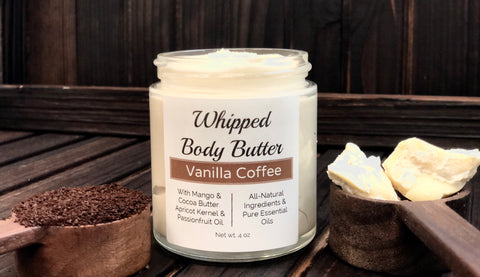 Whipped Body Butter - Vanilla Coffee
A buttery rich moisturizer that melts on contact, absorbs quickly, softens and smoothes the skin. Made with all natural butters and oils that are whipped into a luxurious texture. Mango and Cocoa butter deeply nourish and protect the skin, perfect for those areas that need extra moisturizing. Essential oils of real Vanilla and Coffee give a mouthwatering aroma of fresh brewed coffee with a hint of vanilla creme!

Mango butter if the fat derived from the seeds inside the pits of mangoes. It contains Vitamin A, C & E which aids in skin renewal, combats dull skin tone, protects from environmental damage and leaves skin more elastic and supple. It is an easily absorbed, non greasy butter that with soften and moisturize deeply. It exhibits anti-oxidant properties and is a superb emollient, preventing water loss which leaves the skin looking smoother and plumper looking. 

Cocoa butter is an aromatic fat derived from the cacao beans contained in the fruit pods of the Cocoa/Cacao tree. Cocoa butter melts at body temperature and naturally soothes dry, sensitive skin and has been used for scars for centuries. Cocoa Butter is high in omega 9 which boosts softness, radiance and suppleness to the skin and hair. It aids in reducing the appearance of premature aging such as wrinkles and fine lines and has antioxidant properties. Cocoa butter creates a protective barrier on the skin which restores the skin by giving the skin an opportunity to retain its required moisture and vibrance. 

Shea Butter is derived from the kernels of the shea trees nut's. It is considered a skin superfood for its superior ability to moisturize and soften the skin. It has been used to promote skin clarity and addresses problems such as dryness, blemishes, dark spots, discolorations, stretch marks, and wrinkles without clogging pores.

Almond oil soothes, is highly emollient (balancing absorption of moisture with water loss), rich in Vitamin A & E, and evens out the skin tone. Almond oil absorbs quickly and is a powerful moisturizer. 

Passionfruit oil comes from the "maracuja" passion flower plant native to South America and Africa and also grown in Hawaii and Australia. The oil comes from the seeds of the fruit. It has plenty of nutrients including antioxidants and essential fatty acids which makes it a natural nourishing moisturizer for the skin. It promotes healthy radiant looking skin as it provides Vitamins A and C to protect, help keep the skin looking firm and youthful and rejuvenates. It is light, non-greasy and soaks into the skin very quickly. It really is the perfect moisturizer for all skin types. It works well for oily prone skin as well since it will not clog pores. 


Coffee Oil: Like most seeds, coffee beans (which are seeds) contain a lot of natural oils. Coffee oil is high in terpenes, omega 9, omega 6, ferulic acid, polyphenols (potent antioxidants) and palmitic acid which is a potent antioxidant. 2,3-dimethyl benzofuran is a chemical compound responsible for giving coffee its smokey, woody, and sweet fragrance. Dihydrobenzofuran is one of the most important chemical compounds found in the brain and primarily functions as a serotonin receptor. Coffee essential oil is said to be one of the best homeopathic remedies for aching joints and sore muscles. Kahweol is the compound responsible for its anti-inflammatory properties, and studies have shown its effectiveness in reducing inflammation. Coffee essential oil is also a potent topical analgesic that increases blood flow to the area applied, thought to  increase the rate of healing while providing relief. Coffee oil is jammed packed with components good for the skin such as antioxidants, vitamin E and may even have some skin damage protection in some studies that show it's ability to remove damaged cells. Due to the antioxidants in coffee essential oil, it has fantastic anti-aging properties. These antioxidants actively work to reduce oxidative stress on the skin, leading to increased blood flow oxygen delivery to cells. Increased blood flow is thought to stimulates collagen production in the epidermis and results in the reduction in the appearance of fine lines and wrinkles, blemishes, and age spots. The caffeine content found in this essential oil has also been shown to drastically reduce the appearance of crow's feet by reducing their depth.

Real essential oils of Vanilla and Coffee.
88% certified Organic ingredients.
DIRECTIONS:
Use daily, massage well into the skin. Great bedtime moisturizer that softens and rehydrates the skin while you sleep. Store in a dry, cool place. 
Ingredients
Cocoa Butter*, Mango Butter*, Shea Butter* 
Almond Oil
*, 
Passionfruit Oil
*, Fractionated Coconut Oil*, 
Emulsifying Wax, Cetyl Alcohol, Essential Oils of Vanilla and Coffee.
*Certified Organic Ingredients
---